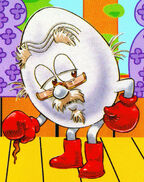 Grand Dizzy is one of the Yolkfolk.
Characteristics
Edit
Grand Dizzy is an aged member of the Yolkfolk. He can be spotted by his spectacles, the tufts of grey hair, or the walking stick he usually carries.
Personality
Edit
Grand Dizzy is helpful when he can be, but is also forgetful and sometimes falls ill, both due to Zaks and naturally. Dizzy doesn't mind taking some time out of his adventure to heal the aged egg, though!
Abilities
Edit
Grand Dizzy may look old, but he can somersault with the best of them! Apart from that, he doesn't get out much, and is usually found standing around his house or confined to his bed.
Appearances
Edit
Grand Dizzy has appeared in many Dizzy games, including: